Are you considering a custom home renovation project? Does the prospect of managing such a house remodel elicit fear and uncertainty? Do you not know where to even begin with home renovations? At renovateme! renovation company we are more than a general contractor. Our team can help coordinate the renovation process from start to finish. This integrated approach to renovating allows our in-house design and construction teams to seamlessly manage your home renovation from the design and planning stages through construction to the glorious final reveal! Having those responsible for estimating and planning communicate and coordinate with those responsible for designing and building creates a streamlined process. As a result, your renovation and project management should be significantly less hectic and stressful. Consequently, we provide cost-effective, fuss-free and time-conscious home renovations, including bathroom renovations and kitchen remodels.
Our team will consult with you to understand your preferences. Together, our award winning interior design and construction professionals will take your wishlist and create a scope of work. Construction materials, windows and doors, fittings and finishes are individually curated for your project. These are discussed with you in the comfort of your home. This in-home presentation eliminates the need for you to travel around town to different showroom floors. Also, this service allows you to take advantage of our years of design and build know-how and established vendor relationships.
We have recently had the renovateme! Design and Construction team completely renovate our 1400 square foot condominium and they did an amazing job. They are a very professional and trustworthy team and their workmanship is first class. We were very impressed with the amount of time and effort that went into every detail. Mike and his team came up with some very unique design ideas that they were able to incorporate into the renovation.

We have received rave reviews from everyone who has seen the renovations and would definitely recommend them to anyone looking for top quality design and workmanship.

Thank you again Mike, George, Athena and Despina. We love our new accommodations.
View the related project!

M & JB North Vancouver
Extensive hands-on experience allows our construction team to not only implement your design brief but also innovate and troubleshoot on site. As a result, disruption to timelines and budgets is limited. In-house coordination and management of every aspect of your home renovation eliminates sub-contractor lead time and allows for progress to be maximized. Furthermore, by work's end, trust is built between contractor and client. So much so that we are confident that we will collaborate again on all of your future custom home renovations in the Vancouver area of British Columbia.
Our home renovation and construction services include kitchen and bathroom renovations, basement build outs, finished basements, laundry room improvements, fireplace remodels, flooring, tiling and painting upgrades, and exterior renovations.
Are you looking to create your perfect home? Whether a complete house or condo renovation, kitchen remodel, bathroom update basement improvement or full home remodeling, our team can help! Kindly contact us today with any questions or to arrange a consultation.
Call us today at: 604.761.2421 or email at: info@renovateme.ca
Thank you Mike and George for completely renovating our condo.

You have done an excellent job showing great initiative, competence and a high level of professionalism and completing the work to our great satisfaction.

I have highly recommended you for your skills, for being easily reachable, always on time and completing the work as promised and leaving our condo in move in condition.

Client followup years later -

Thank you Mike and George for the excellent renovation to our 2 bedroom penthouse. Your expertise, creativity and service was second to none. You put us immediately at ease with regard to the anxiety we had before starting the project. Because of your knowledge, professionalism and your ability to understand our needs the end product was better than expected. You have proven to be honest, passionate and hard working. The project was completed on time and on budget. We give you both our highest recommendation for the high caliber of service. It was a pleasure working with you both.

G & MM North Vancouver
Commonly asked questions about home renovations
I have heard about asbestos. Should I be concerned about asbestos contamination during my renovation?
Older homes built prior to 1990 may have building material containing asbestos. Common building materials that may consist of asbestos fibres include drywall panels, drywall joint compounds, ceiling textures, vinyl floor tiles, certain insulation and roofing shingles. The presence of asbestos is no need to panic though. As long as the fibres are not disturbed it is believed to be reasonably safe. Concern arises when undertaking a home renovation project. When renovating, particular care must be taken to address the presence of asbestos.
Before commencing with any demolition, renovateme! will obtain samples from any suspect material. These samples will be tested by an approved laboratory for any signs of contaminants. The lab's findings will be discussed with you and a copy of the results will be presented. If asbestos is found to be present, renovateme! will arrange for a licensed abatement contractor to remove and recycle the contaminated material. A clearance certificate will be given to you upon completion of abatement procedures.
How long would my bathroom renovation take to complete?
A typical 3 piece bathroom renovation can be expected to conclude within approximately 3 weeks. This type of bathroom remodel would involve removing and replacing existing fixtures including the vanity, bathtub/shower combination and toilet. A 4 week timeline can be expected for a renovation that includes the conversion of a bathtub to a walk-in shower. More complex renovations involving heated floors & towel bars, free-standing tubs, custom walk-in showers with wall niches & seats may entail closer of 6 weeks of build time.

I am interested in a kitchen renovation. How long can I expect for my kitchen to be under renovation?
A typical kitchen renovation can take anywhere from 4 to 10 weeks. A condo kitchen renovation that does not require the expansion of the existing kitchen's footprint can be completed in about 4 weeks. This renovation would entail the removal and replacement of older kitchen cabinets, counters, backsplash & flooring materials and appliances. More elaborate renovations requiring expanding the kitchen's footprint and reorganizing fixtures and fittings may be handed over within 6 weeks. Larger kitchen renovations in detached homes typically consist of 6 to 8 weeks of work. From start to finish, open-plan conversions requiring the removal of walls involve closer to 10 weeks of construction.
Kitchen renovations can be disruptive. How can renovateme! lessen the inconvenience?
A kitchen renovation requires the complete removal and replacement of your existing kitchen. This process will without a doubt cause an element of inconvenience. Renovateme!'s integrated renovation process aims to minimize the disruption that a typical renovation involves. As a family-owned and operated renovation contracting company, our team has chosen to grow our business responsibly. Consequently, we only undertake one large renovation project at a time. By concentrating on one major renovation at any given time, we are able to focus on completing your kitchen renovation in a time-sensitive manner. Because all components of your renovation are handled in-house, we are able to manage a tight schedule. This coordinated management of schedules, timelines and responsibilities minimizes typical sub contractor lead time. Consequently, you should be enjoying your new kitchen sooner than later. Bon appetit, as one says!
Prior to beginning demolition we can assist you in setting up a temporary "mini" makeshift kitchen elsewhere in your home including your existing refrigerator, microwave and kettle.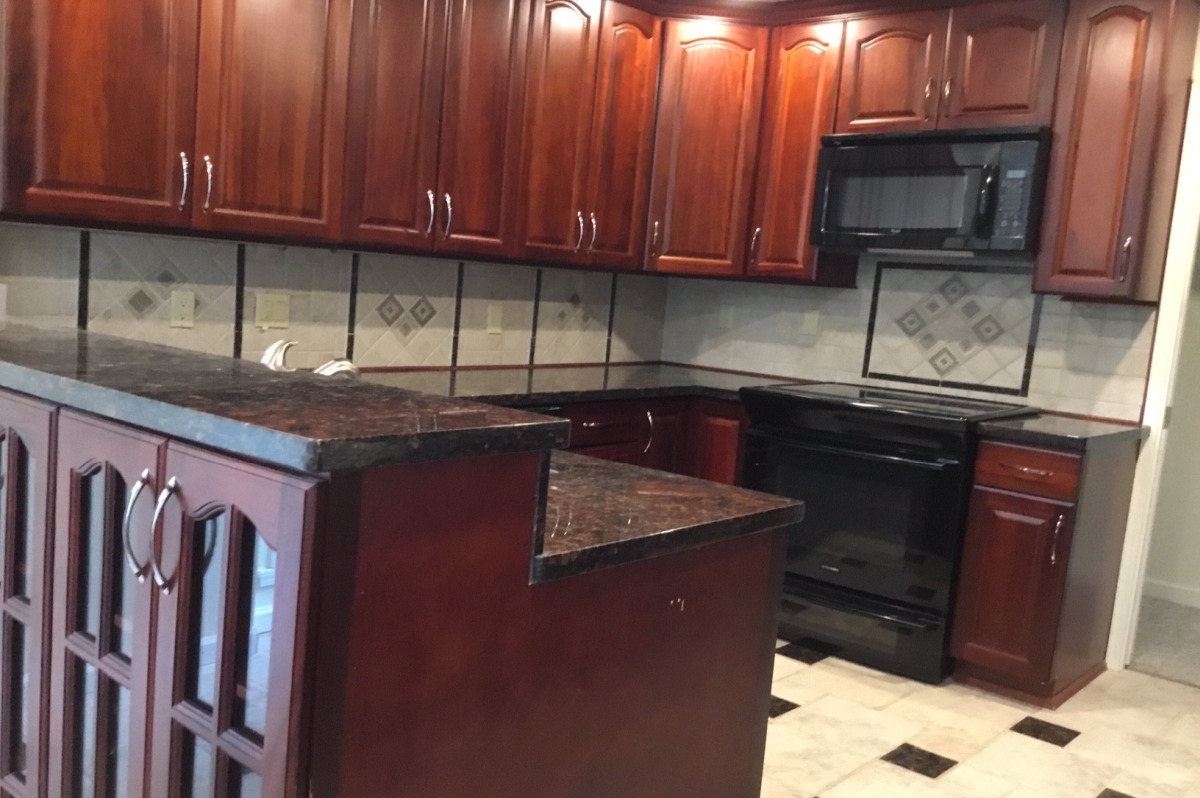 I have a basement in my home. How can renovateme! help me renovate it?
Take your basement from an unfinished/inefficient open space to a fully functional family-friendly area with renovateme! Our team can take your wish list and turn them into the basement of your dreams. Consider including a supplemental kitchen, additional bathroom, media room, guest bedrooms, hobby room, home office or a rental suite.
What flooring alternatives should I consider for my home renovation?
Floor surfaces take quite a beating in the average home. Consequently, selecting the most suitable flooring option is an important component of any design brief. Flooring alternatives should be durable, cost-effective and aesthetically pleasing. Continuity in flooring is another determinant when deciding on the best flooring options for your home renovation. Below are a few great flooring options to consider:
Tiled floors: hard-wearing porcelain tiles are suitable in wet or dry area. They are available in a variety of shapes and sizes. They are relatively fuss-free, easy to maintain and clean especially when installed with tight grout lines. For extra durability, consider installing tile over an anti-fracture membrane.
Hardwood: solid hardwood can only be nailed down over a wood substructure and usually above grade. Hardwood should be avoided in bathrooms because they may absorb water. Engineered hardwood can be installed anywhere in your home including below grade in basements. It may be nailed down, glued down or floating. Both hardwood versions can scratch easily and tend to fade when exposed to direct sunlight.
Laminate: a great alternative to hardwood, a high quality 12mm thick laminate better resists fading and scratching. These facts make laminate a suggested option when sourcing pet and children friendly building materials. It can be installed as a floating floor over any concrete or wood substructure.
Luxury vinyl plank: relatively new to the market, luxury vinyl plank flooring is available in many colours. It is virtually indistinguishable from hardwood. It is waterproof and can be installed in kitchens, bathrooms and below grade. Like laminate, it is floated over your existing substrate.